Pflueger® Reels in ICAST Best in Category for Supreme QRS Fly Reel
COLUMBIA, SC - (July 14, 2017)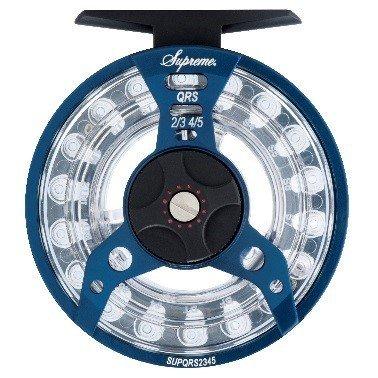 The Pflueger® Supreme QRS, "Quick Release Spool," won big at the 2017 ICAST New Product Showcase "Best of Show" awards in Orlando, Florida, receiving Best in Category for New Fly Reel Products. Modern in style and functionality, the QRS is a testament to the brand's innovation, dependability and attention to detail.
With over 1,200 new products entered into the competition, buyers and media representatives at the International Convention of Allied Sportfishing Trades judged the products based on their level of innovation, execution, workmanship and practicality.
"Innovation is the name of the game for the new Pflueger Supreme QRS Fly Reel, and we're honored to receive this accolade from the ICAST community," said Hugh Hutson, associate brand manager, Pflueger. "The unique ability to fit four line sizes on one fly reel combined with an excellent price point and innovative cassette spool system makes it a game changer for fly anglers, and we are eagerly anticipating its release this September."
The new interchangeable large arbor cassette spool system allows the angler to quickly change out line size and/or type – meaning that the same reel can be used for many different fishing conditions.
The new polycarbonate cassettes are secured in the spool carrier by an advanced locking system enclosed by a full stainless steel and 6061 alloy construction. Other key features of the Supreme QRS include dual spool 4-line rating, quick release sliding ring system and the line indication system.
MSRP for the Pflueger Supreme QRS Fly Reel is $149.99.
About Pure Fishing, Inc.
Pure Fishing, Inc. is a leading global provider of fishing tackle, lures, rods and reels with a portfolio of brands that includes Abu Garcia®, All Star®, Berkley®, Chub™, Fenwick®, Gulp!®, Hardy & Greys™, Hodgman®, Johnson™, Mitchell®, PENN®, Pflueger®, Sébile®, Shakespeare®, SpiderWire®, Stren®, Trilene® and Ugly Stik®. Pure Fishing, Inc. operates in 22 countries with a dedicated workforce conversant in 28 languages. Pure Fishing, Inc., a part of Newell Brands' strong portfolio of well-known brands, is a leader in developing outdoor and active lifestyle products. Additional information can be found at www.purefishing.com.
About Newell Brands
Newell Brands (NYSE: NWL) is a leading global consumer goods company with a strong portfolio of well-known brands, including Paper Mate®, Sharpie®, Dymo®, EXPO®, Parker®, Elmer's®, Coleman®, Jostens®, Marmot®, Rawlings®, Irwin®, Lenox®, Oster®, Sunbeam®, FoodSaver®, Mr. Coffee®, Rubbermaid Commercial Products®, Graco®, Baby Jogger®, NUK®, Calphalon®, Rubbermaid®, Contigo®, First Alert®, Waddington and Yankee Candle®. Driven by a sharp focus on the consumer, leading investment in innovation and brands, and a performance-driven culture, Newell Brands helps consumers achieve more where they live, learn, work and play. Additional information about Newell Brands is available on the company's website, www.newellbrands.com.