Welcome, Ladies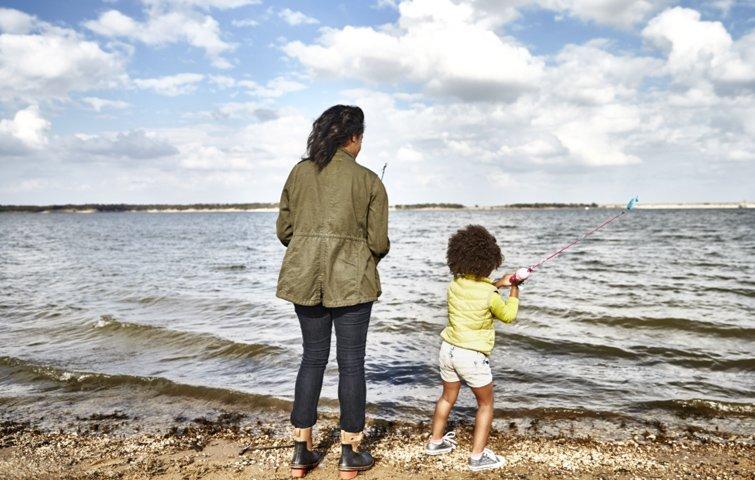 The Great Outdoors belongs to everyone. That's a truth American women are warming to in record numbers.
It's no secret, however, that those numbers would be dramatically higher were outdoor sports not so conspicuously male dominated or if more ladies could find their way to an able mentor.
The good news is that the paths to on-the-water instruction are becoming increasingly well paved as cultural barriers crumble and more preach the gospel of good angling to audiences hungry for the message.
For generations, women frequently felt they had little access to fishing unless a husband or boyfriend or kindly uncle asked them to share a boat. But times have changed.
Today the sight of pairs and trios of women fishing together, moms fishing with their children, and even women piloting their own bass boats or offshore craft for pleasure or profit are becoming commonplace.
Credit part of this women-to-the-waters phenomenon to organizations that have made their mission to usher their gender into the angling fold. Clubs and classes dedicated specifically to bringing more women to fishing are on the rise. While fishing is a sport that is largely solitary or shared in small company, you will likely find a sizable community of participants somewhere in your area ready to welcome you to the sport.
The Internet can help your hunt for guidance. Simple searches will lead you to organizations such as the International Women's Fishing Association, Women's Fly Fishing Clubs (clubs in 33 states, D.C. and parts of Canada), "Ladies, Let's Go Fishing" classes and events, and scores of state and regional clubs, associations and events.
Be ready to test several options. Be selective. Find a group committed to the sport but equally committed to sharing their time and knowledge. Good leaders will put the fun of fishing and fishing knowledge ahead of their own need for admiration.
Ladies, Let's Go Fishing, a Florida-based group that boasts of over 5,000 graduates, enjoys its reputation as "the No-Yelling School of Fishing" -- a light-hearted poke at the "old school" guides and instructors whose brusque and intimidating manner have kept potential anglers of both genders from making the most of on-the-water learning experiences during the formative stages of their angling development.
But never discount the value of the quiet and solitude at the core of this pastime, the source of much of its beauty and appeal. Alone time also offers opportunity to practice skills outside the eye of others and to gain comfort and confidence in the basics of the game.
Vacations provide great opportunities to dip a toe into generous sportfishing waters. Choose an area with a variety of fishing opportunities -- chances to sample good fishing with a guide or experienced hand as well as shore-fishing opportunities to extend the learning experience.
Unless you have a solid base of experience already, keep the degree of challenge modest. For all its fun and fascination, fishing can -- and will -- deliver its share of frustrations, such as failed knots, snagged baits, tangled lines and casting mishaps. Much of fishing is paying attention to small details, learning the nuances of basic practices...and simply doing it! Put yourself in position to enjoy the journey.
Concentrate on a few target species and basic techniques with emphasis on action and numbers of fish. Big fish will come in time. But gear early outings to repetition and the enjoyment of executing basic skills and catching fish.
Work on the basics -- casting, tying knots, rigging baits, setting the hook, and landing fish.
Find tackle that fits the style of fishing you will be doing and the species you will encounter.
Select tackle that you and your pocketbook are comfortable with. You can find plenty of good quality, modestly priced tackle in the Shakespeare line-up. Spincast and spinning rod-and-reel combinations are available in a wide range of options today.
Learn to tie knots -- the Internet can help here, too -- and practice preparing the types of rigs you will be using before you hit the water. Practice casting in the yard or an open field to improve this very important skill. You will find this practice time well spent.
Keep expectations and ambitions modest as a newcomer to the game and concentrate on the basics. You will discover layer after layer of complexity in fishing, but it is easy to absorb it in small bites and settle in at your own comfort level.