Pflueger Pro Ott Defoe Wins Bassmaster Elite Series Tourney
Defoe Wins First Career Elite on Mississippi River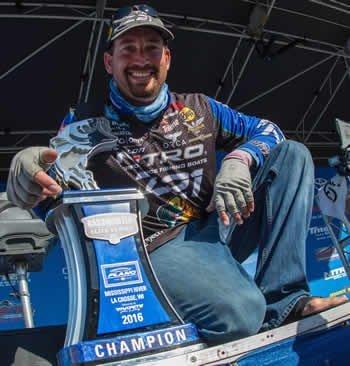 Pflueger pro Ott Defoe claimed victory at the Bassmaster Elite tournament on the upper Mississippi River at Lacrosse, Wis. Defoe's final weight for the four-day tournament was 63-10, over a pound heavier than the runner up's weight.
It was the anglers first Bassmaster Elite win. Defoe was named B.A.S.S. Rookie of the Year in 2011 and has qualified for the Bassmaster Classic five times.
The Knoxville, Tenn. Native fished the entire tournament in Pool 8 of the Upper Mississippi River. He spent mornings in front of a low-head spillway before ending his day on grass flats at the southern end of the pool.
The water flow from Pool 7 slowly poured into Pool 8 causing some turbulent flow in the mornings attracting baitfish. Defoe used a Pflueger Patriarch 7.1:1 low profile baitcasting reel spooled with 15-pound 100% Berkley Fluorocarbon line on a 7-foot Fenwick Elite Tech medium-action rod.
The flats at the southern end of Pool 8 had matted grass ideal for punching heavy jigs. Defoe selected a Pflueger Patriarch 7.9:1 low profile baitcasting reel packed with 65-pound Trilene Braid line on a 7-foot, 8-inch Fenwick World Class rod.
Defoe won $100,000 for the tournament win plus a bonus of $1500 for the tournament's largest bass, a 6-1 lunker caught on Friday from his morning spot.