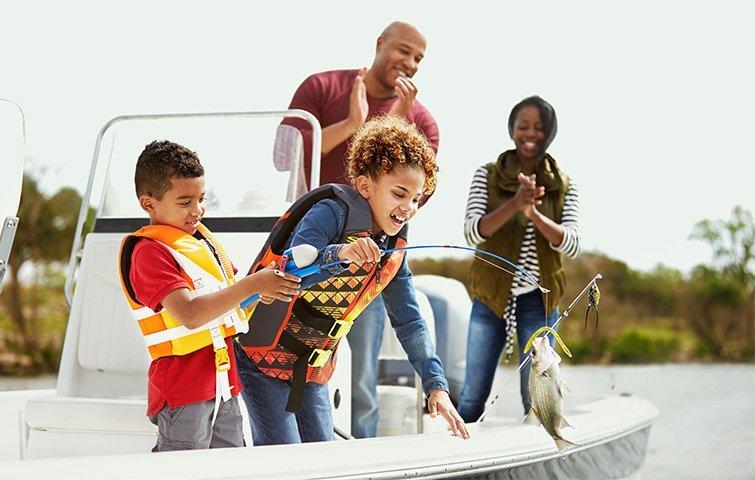 On the water moments are among the most vivid and enduring a life can bring. Here's how to multiply the memories and make the most of every fishing moment!
If, as Ray Charles once noted, love of country music stems from its "stories," it is equally true that love for fishing stems from its "memories." A recurring theme in practically every culture is that fish get bigger in the waters of the mind. Why? Just credit the innate magic of the fishing experience for making them grow!
Catching counts
Yes, it is true that the beauty of fishing runs far deeper than the act of catching fish. Travel, location, preparation, camaraderie and appreciation of nature play a profound role in the theater of the outdoors.
But make no mistake! Fishing is always better when you catch fish! And because the best fishing memories come in the company of others, your ability to bring fish catching into the equation in any group outing is a powerful way to open the memory parade. Fish stories a pair of anglers or, better yet, an entire group have a part in creating often resonate for generations.
If you are a newcomer to fishing, develop your understanding and a certain degree of proficiency before you bring other newcomers to the game. Fishing classes conducted by patient and experienced instructors can put you on a fast-track to fishing enjoyment. Equally important, those classes can help you minimize the mishaps and frustration that can end a fishing career before it has a chance to get off the ground. Have family members or prospective fishing partners attend the classes with you. You'll grow together in more ways than one!
Here are a few tips and guidelines to start the memories rolling!
Improve your game - Part of the beauty of fishing is that you can enjoy it at the level of simplicity or complexity that you choose. But rest assured that mastering basic skills and acquiring an understanding of tackle and techniques will reap rewards that far outweigh the time and effort invested in acquiring them! Learn your fish species and their favorite foods and habitats. Learn to adjust your approach to the conditions you encounter.
Know your water - Learn as much as you can about the water you plan to fish. Know the species the river or lake holds. Make sure that you are equipped to take on the target species. Check out local fishing reports. Locate hydrographic maps. Talk to knowledgeable fishermen with a track record of success on that body of water. Try to determine the areas of the lake most likely to hold the fish you are after at the given time of year you plan to fish. If you are fishing a body of water for the first time, don't be afraid to explore it to learn the location of key areas.
Fish where the fish are - Fishing piers and defined fishing areas are nice gestures, but don't assume they are the best places to fish! Concentrate your fishing on high percentage areas for the species you target - where proper habitat and forage converge. Get away from the angling crowd and find the crowds of fish!
Share and share alike
When possible, hook up with knowledgeable anglers who are familiar with the waters you plan to fish. Ask questions and pay attention to detail. Fishing success is often determined by these fine points -- rigging, tackle, sensing a strike, playing and landing the fish, and the infinite wonder and complexity of the fish and their aquatic playground. The more you learn, the more you will have to share. And the memories spun from time on the water with a good mentor are worth their weight in gold.
When it is your time to assume the role of mentor, make your "student's" enjoyment your primary focus. No need to impress your guests with an eye-popping catch. Your competence, patience and willingness to share can light up a life! And when your patience and instruction enable another to catch that first fish or biggest fish, that moment will remain as much alive in your mind as his or hers! You may remember their first fish more vividly than your own!
Small waters that are easy to learn and easy to fish make the best training grounds and probably generate more memories per acre than our "destination" waters. But love and familiarity with any water, big or small, can make it feel like home.
Action!
Fishing will forever have its highs and lows. So tilt the odds in your favor whenever you can by selecting when and where and how to fish.
Though a seasoned angler usually treasures any time on the water, prime conditions set the heart thumping. When your schedule permits, time your outings to hit favorable fishing conditions.
Stable weather and water conditions generally are better for fishing than sudden change - unless those changes concentrate aggressive fish in areas where you can reach them. The gorgeous bluebird days following a string of hot, muggy days are a tempting time to take to the water. But, more often than not, these are days better spent taking care of the yard work than trying to coax fish to strike. On the other hand, a couple days of stable, hazy conditions often sets the table for a memorable day on the water.
Awareness!
Fishing success depends largely on awareness. Fishing memories are built on awareness as well.
Take time to observe nature, the activity of creatures above and below the surface of the water. Take in the activity of waterfowl and birds of prey, of a family of turtles sunbathing on a fallen tree limb, of a whitetail deer sipping lake water from the bank, or of predators herding baitfish. All contribute to the magic of a day on the water. Many of these wondrous details become clues to fish activity as well.
Capture the moments!
Many fishing moments last a lifetime in memory, but sharing them with others extends their reach! Capturing fishing moments through the eye of a camera has become almost as much fun as catching them today.
Keep a camera handy. Many phone cameras are ideal for capturing both still photos and quick video footage of fish catches and precious moments on the water. With catch-and-release the dominant practice of many fishermen today, photos and videos stand as proof to self and others that the catch was everything you thought it was, not to mention a visual means to resurrect a treasured moment again and again!
An interviewer once asked Bob Rich, author of several books including his latest novel Looking Through Water, what he loved most about fishing.
"Every time I head to the water, I know that there is a good chance that I might witness something I will never see again!"
Yes, in the end, fishing is all about making memories! Here's hoping that your memories spill out endlessly from the cornucopia of your fishing experience!