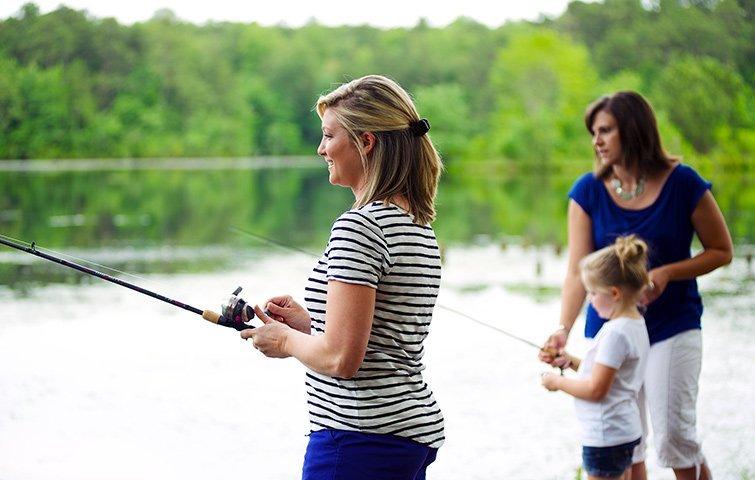 Although shopping is often considered a ladies game, the genders clearly play at role reversal when fishing tackle is the buyer's target.
Indeed, men who look like lost children in a shopping mall can spend hours poring over the rod racks and pegboards of well-stocked tackle stores. Women? Not so much!
Fortunately, tackle makers have made stronger efforts to tailor rods and reels to the female fisherman in recent years, and retailers have made it easier for shoppers of both sexes to find them.
Whether you are a woman ready to take her first plunge into the sport or a guy hoping to make the fishing experience of daughter, wife, niece, neighbor or girlfriend a success, today's options are there to please!
What a woman wants
"The ladies side of fishing is a growing area," notes Lynn-D Gunter, associate manager for Shakespeare® brands. "The tackle for women stands out -- brighter colors and more shiny graphics. The offerings were limited in the past, but they are popular today."
That women love lavender and pink and other pastels may seem cliche, but market surveys validate the claim.
"When polled, women have reported 'Those are the colors we like!'" says Mike Welsh, product manager for the Shakespeare® brand, which offers the Ladyfish® line of rods and rod/reel combinations as well as Ugly Stik® Ladies GX2™ rods and combos. "Those are also the colors the guys look for when they are buying tackle for a woman."
"Pink is the traditional woman's color. Other 'lady' rods come with a purple lavender tone," adds Gunter. "Some trend to blue tones and turquoise."
Blanks in these solid feminine hues are easy to locate. But stately color combinations with these soft colors as highlights may prove more satisfying.
The Shakespeare® Ladyfish® and Ugly Stik® Ladies and Ladies Elite series of rods and combos convey a subtle elegance with slate grey blanks highlighted with pink and silver thread wrap and logo. The reels in the combos are similarly punctuated with pink and lavender highlights.
What a woman needs
But quality women's tackle is more than sheen deep. Look for rods ergonomically designed to a generally smaller woman's hand.
"Grip diameters are a little smaller on the Ladyfish and Ugly Stik Ladies GX2 rods, for example," explains Welsh. "Women also prefer shorter rods and lighter actions."
That translates into rods from 4-1/2 to six feet in length for panfish and bass and smaller saltwater prey but up to 7 foot lengths for larger predator species or conditions requiring longer casts. Smaller women often prefer the shorter length rods, which also facilitate more accurate casts.
Medium power rods are a good place to start. They enable comfortable casting with a wide range of lures and terminal rigs and are strong enough to control an unexpectedly large fish.
Ultralight rods are best for very light lures, baits and rigs. They have the added advantage of making almost every hooked fish more fun as the very light power and moderate action of the rods accentuates the strength and activity of the fish.
Casting, spinning, spincast
You have the choice of three distinct types of tackle.
"Baitcasting" rods, often referred to as just "casting" rods, accommodate baitcasting reels, which are open-spooled reels that mount on the top of the rod handle. They require more casting skill -- and a bit of practice -- to master. Baitcasting tackle often requires a little adjustment for lures or terminal rigs of significantly different weights. Such rods feature a trigger-like handle feature. Baitcasting tackle is not recommended for light lures or light bait rigs regardless of the angler's experience or talent.
Spinning rods feature a very large first line guide. The spinning reel, which has a long stem between the reeling mechanism and its base, mounts on the underside of the rod handle. Spinning tackle is generally regarded as easier to cast than baitcasting tackle. It is also the tackle of choice for fishing light lures and for light live bait applications.
Spincast tackle features a close-faced, top-mounted reel on a "trigger" handle rod. A push-button controls line release. It is often the choice for beginner anglers because of the ease of handling and simplicity of its operation.
Regardless of which type of tackle you select, make sure the reel is fully spooled with a quality fishing line. A good choice for all-around fishing are monofilament lines from Berkley Trilene, such as the Trilene XT or Trilene XL in line strengths ranging from 6-pound to 10-pound test. Lighter line strengths generally perform better on spinning and spincast tackle.
Of course, tackle should also be geared appropriately to your prey. Know what fish you will be fishing for first and select the tackle accordingly. A 4-foot, 6-inch ultralight rod may be easy to cast and handle, but larger predator fish like redfish and snook or northern pike and big largemouth bass will be tough to control with such tackle.
Better tackle translates into better performance, fewer problems and more fishing fun!