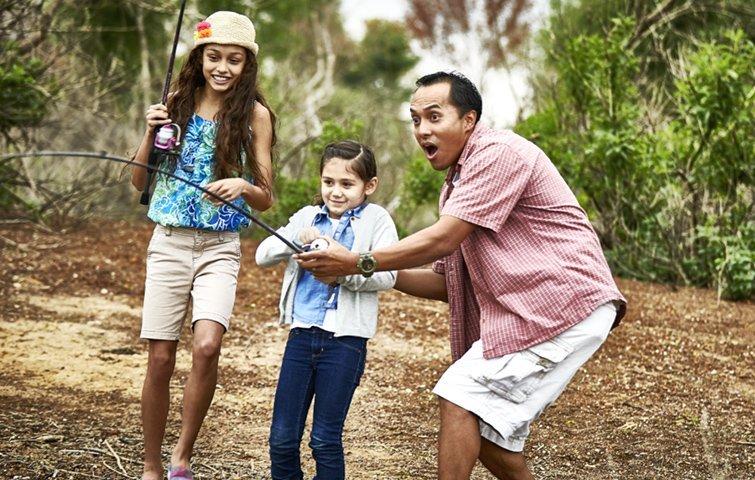 Want to endear yourself even more deeply with loved ones this holiday season? Be the gift giver who delivers something they will cherish - and actually use!
"Angst" is the cloudy downside of the holiday season, the fret and worry and drawn-out dread of shopping for loved ones with faint hope of finding a gift that really matters and makes all that anxiety worthwhile.
That need not be the case, however, if you were born -- or have married -- into a fishing family or are bringing an avid "newbie" into the angling world.
The holiday season is the perfect time to spill out the angler's cornucopia and appreciate the abundant gift options available. True, vast variety carries its own challenges, but the ever-needy fisherman always has room in the tackle arsenal for another well-chosen rod, reel, net, lure, or electronic tool…not to mention the endless range of apparel and accessories that factor into the four seasons of fishing.
Sizing them up
Don't take a grab bag approach to your gift hunt. Take a little time to learn a little about the angler you are buying for. Is he or she a veteran angler with a garage full of tackle or a newcomer to the sport? Do your angler friends bank fish for panfish on inland lakes, fish exclusively for freshwater bass, or cast inshore coastal waters for tarpon, snook, and redfish? The answers will help you narrow your search and ask the right questions of the tackle store sales staff.
If your gift is going to an experienced fisherman with a well-filled tackle supply, ask his fishing friend for some gift hints. Odds are the boat pal has a good read on his partner's tackle arsenal or may have even heard him utter secret tackle wishes! And, if that doesn't work, there's nothing wrong with subtle probing. Well-aimed questions could help you draw a bead on the perfect gift.
Newcomers and those in the early stages of building a tackle arsenal extend the realm of gift options immensely. Well-chosen tackle items, big or small, are likely to brighten eyes as the gift wrap flies.
Here are some tackle categories to choose from.
Fishing Rods - Every angler longs for yet another rod. But rods that are most appreciated are those that add to the angler's capability to take on a new or target species or execute a given technique. But start first with the basics. Find out if the angler is comfortable with spincast, spinning tackle or baitcasting tackle and the species they are likely to pursue. Unless you are prepared to buy a reel as well, be sure to find out what kind of reels your favorite angler will be putting on the gift rod before you make a selection. Note: The Shakespeare Wild Series offers a wide range of spinning rods in varying lengths, powers and actions at a comfortable $39.95 price point. Multi-piece travel rods also make fine gifts for the angler who travels light but hates to miss a fishing opportunity if one should arise.
Rod 'n' Reel Combos - Rod and reel combinations have multiple advantages. No need to worry about buying a reel too large or heavy for the rod, or vice versa. Combos generally deliver a rod and reel matched for performance and style. They often come spooled with a line suited to the mix as well. Note: Shakespeare offers a wide range of combos under both the Shakespeare brand and its Ugly Stik sub-brand in prices ranging from $19.99 to $89.95. Included are the Ugly Stik GX2 Spinning Ladies Combo; the species-specific Ugly Stik Elite Salmon/Steelhead Spinning combo; the Ugly Stik Bigwater Spinning Combo for tough species and conditions; and the Ugly Stik Crappie Spinning Combo.
Reels - The universe of fishing reels is huge, so do some research to dial down to sensible options before you even consider buying one for friend or family. Spinning, baitcasting and conventional reels come in a wide and varied range of sizes, styles and prices. Spincast reels are generally moderately priced and easy to operate, making them popular among newcomers, young anglers, and anyone wanting to limit his or her fishing complications. New: The Shakespeare Synergy TI Reel is newly designed for this season and available in a range of sizes in both traditional top-mount and under-mount styles.
Tackle Management and Kits - Tackle management systems come in many forms and styles, from conventional tool-box style tackle boxes to versatile compartmentalized tackle trays and even stylish, well-conceived tackle bags with room for multiple trays and even the specific kinds of equipment you will carry. Shakespeare "Catch More Fish" tackle kits combine species- or condition-specific tackle (bass, catfish, panfish, walleye, trout kits along with surf/pier and lake/pond kits) in an easy-to-carry tackle tray.
Accessories - Fishing tools and accessories can be great "save-the-day" gift choices. Anglers use multi-tools, fillet knives, utility knives, line clippers, O-ring pliers, scales, fish-cleaning boards, and more. Better yet, they don't mind redundancy with the tools they use most. Minnow buckets, portable aerator systems and fishing nets add to the options.
Apparel - Fishing apparel rarely misses the mark during the holiday season. Fishing caps with the logos of favorite tackle brands are always welcome, and anglers never seem to have enough of them. Same goes for "hoodies" - hooded sweatshirts -- which are available today in a range of materials and in an artist's assortment of colors. Camouflage ("camo") patterns are very popular with male anglers, young and old. Logo T-shirts and long-sleeve jerseys are always welcome, particularly those available in today's comfortable "performance" fabrics. Cold weather and water-resistant clothing will please the die-hards who fish in rain and snow. And, of course, ice fishing opens up a whole new world of options!
So take to the tackle aisles this holiday season. The gift choices are endless, and you will marvel at the variety and depth of selection there to choose from.
Heck, you may end up buying a few gifts for yourself as well!