Hunter Shryock Flips the Adrenaline Switch
Athlete. That's what it says right under Hunter Shryock's name on his Facebook page.
"Some people don't think fishing is a real sport and that professional fishermen aren't athletes," says Shryock, a SpiderWire pro staffer. "Well they can think what they want, I just don't think they realize how physical the sport is and what it takes to fish all day and drive a bass boat through all kinds of weather."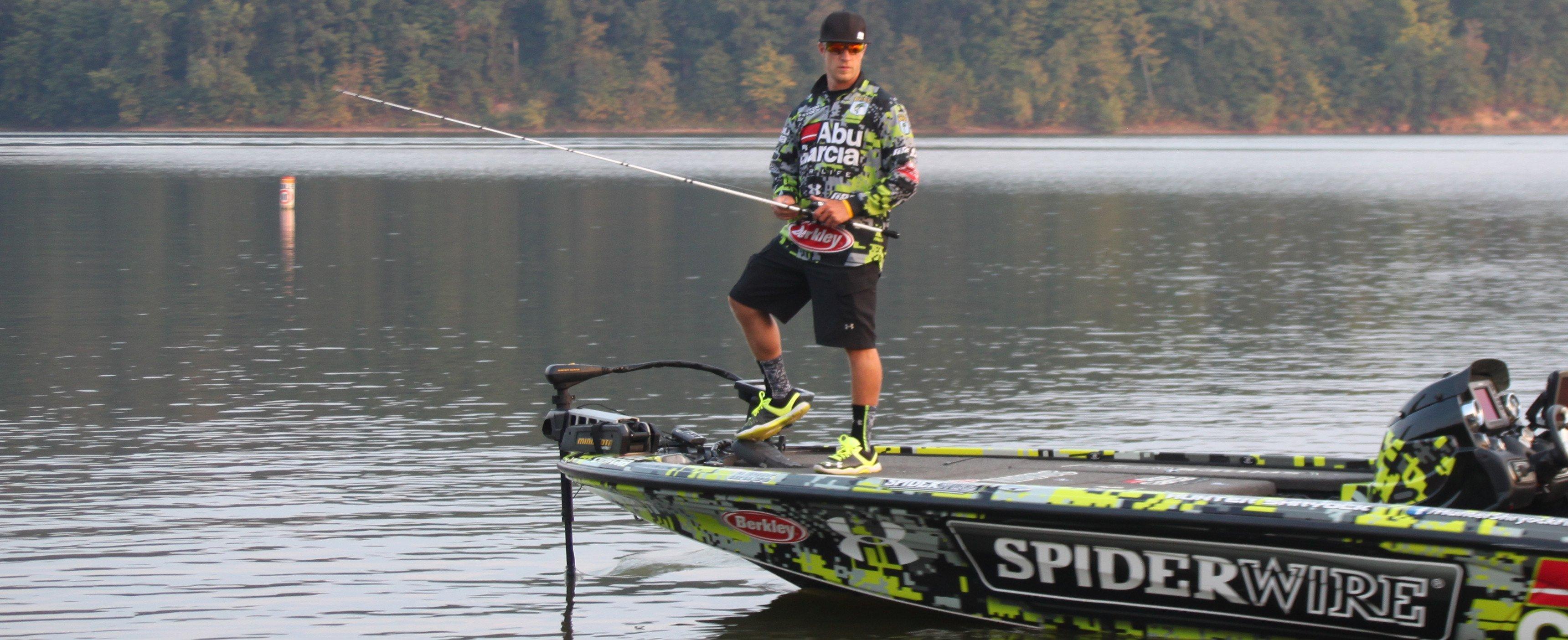 A professional motocross racer until he was 21, Hunter knows exactly what it takes to power a high speed vehicle through rough terrain and practically spend as much time in the air as connected to the surface.
"I came from motocross and I get the same adrenaline rush from tournament fishing as I did from racing," claims Hunter. "I remember fishing my first Thursday night team event with my little brother. I caught one fish and I was so jacked up about it!
"You fish eight hours and it comes down to five seconds – that time between when you hook the fish and get it in the boat," he adds. "Your heart is racing all the time. There's so much riding on that one opportunity, that one fish or those five fish."
Hunter says his favorite way to fish is to flip. He prefers to have the upper hand during those five seconds in the cover, opting for a heavy flipping rod and 65-pound SpiderWire.
"Last year down in Toho (Lake Tohopekagila) I only had 6.5 pounds the first day," says Hunter. "I was already down and out and I knew I had to catch a big fish. The guys talk about how when things get tough, fish the way you like to fish."
So the next day Hunter was flipping the mats with a black and blue Pit Boss on a 1 1/2-ounce tungsten weight and by noon had four fish in the box that weighed 9 pounds.
"I stopped on this waypointed mat, flipped in and got what I thought was a bluegill bite," Hunter says. "So I kept flipping and on the seventh or eighth flip the line just kind of stopped. I reared back and set the hook and this big ol' fish came out of there."
In the excitement of the moment Hunter didn't even think of going for the net.
"I was yelling and screaming and ended up boat flipping it, I was so pumped," he recalls. "That 7-pound fish ramped me up to 26th and a paycheck. To be down on yourself one day and on top of the world the next – that's what fishing does to you."
To see just how jacked up SpiderWire's Hunter Shryock gets about his fishing lifestyle, be sure to check out his videos on his Facebook page and his YouTube Channel (Hunter Shryock Fishing/496 Films). You can also follow Hunter on Twitter (@boomer496) and Instagram (@huntershryock496).