Blue Camo and Invisi-Braid keep Capt. Michael Anderson hooked up
While based out of a little Florida town called River View, Tampa Bay's competitive fishery is where Capt. Michael Anderson works the year-round targeting inshore, nearshore and offshore runs of game fish aboard his 25-foot bay boat equipped with a dual station tower.
Capt. Mike is all about catching fish and not only runs a charter boat and fishes tournaments, he also hosts television and radio shows. Anderson relies on SpiderWire's Stealth Blue Camo Braid and Ultracast Invisi-Braid to keep his customers hooked up, tournament bucks flowing and the cameras rolling.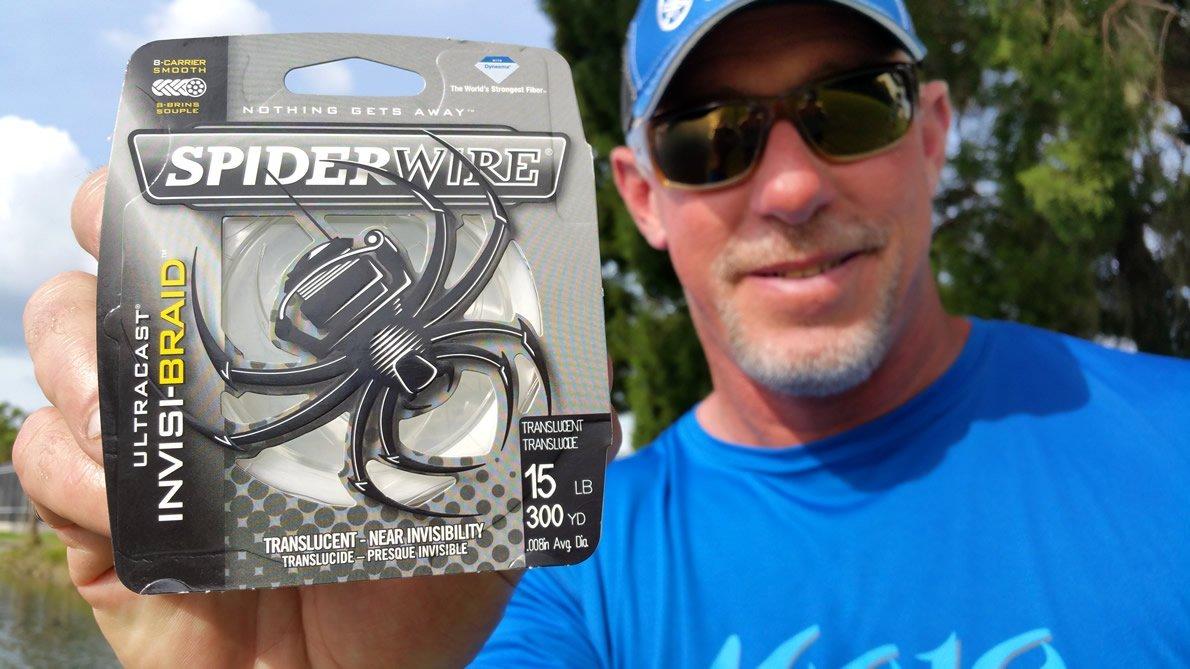 "Like I tell people all the time, when I am out the water, I am either fishing clients that are paying me to catch fish, fishing tournaments for money, or filming a TV show," says Anderson. "I can't be worried about my line and SpiderWire is the best line I have ever used, period."
A self-proclaimed Wisconsin "cheese head" from birth, a stint in the Air Force took him from Germany to Tampa Bay and landed Capt. Mike in Florida's West Coast fishing paradise. Raised casting for walleye with his dad and uncle, he quickly took advantage and soon started fishing in local tournaments. When he saw that charter captains had the most tournament sponsors, he started his charter service Thunderbay Charters.
"I was getting more fish just farting around than the other captains, which led to the radio show, then another radio show and then TV," he notes. "That's all I do full time now."
As mentioned, if there's one place you can fish full time it's Florida, and Capt. Mike uses his dual tower bay boat to sight-fish snook, tarpon and redfish and heads out to nearshore and offshore waters for permit, kingfish and grouper. And his reels are always packed with SpiderWire.
"The Blue Camo Braid has been fantastic for the 30- to 50-pound-class tackle," he says. "My permit rods, grouper rods, kingfish rods — they all have SpiderWire Blue Camo.
"I like to fish light tackle, so I am fishing medium to medium heavy rods, which gives the fish a lot of room to run around the structure and play so you have to have a line that is very abrasion resistant," Capt. Mike adds.
"With that lighter rod, you also have to have braid strong enough to turn the fish's head and get it coming toward you, especially permit and kingfish. They both make big first runs, so you have to have a line that gets them headed towards the boat.
"When you are grouper fishing, the gag grouper like to eat your bait and head straight to the rocks," says Anderson. Your line has to be strong enough to stop them.
"I'll use 30-pound Blue Camo for permit and sometimes I'll drop down to 30-pound for gag grouper," he adds. "With that line you know you can get away with it, that Blue Camo in 30 is perfect. We do get some 40-, 50- and 60-pound cobia at times and that's when you might want to go to 50-pound.
"Again, strength of line is paramount, you have to have a line on your rig that you believe in. You need every advantage you can get."
And that's not just an advantage over the fish. Topnotch fisheries attract a lot of attention and that means boats are often trying for the same fish.
"Tampa Bay is a very congested body of water, we have a lot of people fishing the Tampa Bay estuary," Capt. Mike points out. "When you get that kind of boat pressure, you need to be able to make really long casts. SpiderWire Ultracast is the longest casting, most durable fishing line I have ever used."
Capt. Mike says his snook, redfish and trout rods are are all rigged with Ultracast Invisi-Braid and so is his tarpon gear.
"We have a huge tarpon fishery in April, May, June and July," he notes. "When most guys are using 65-pound braid, I can use 50, which means I can make a longer cast and sometimes reach the fish before other guys get there and before the fish feel the boat pressure.
"Lots of times that boat pressure will put the fish down," he adds. "I don't have that problem, that Ultracast casts a country mile."
You can get more fishing tips from Capt. Mike on his nationally syndicated Reel Animals radio and TV. The Reel Animal show airs on Fox Sun Sports, World Fishing Network and Tuff TV. The captain has a Sunday morning radio show airing on Tampa's 620 WDAE station and a Saturday morning radio broadcast on 970 WFLA. Both radio shows are also on iHeart Radio.