Johnson Pro Wins 2014 Cabela's Crappie USA Tournament Championship
Credits new Johnson Crappie Buster Shad Scales for win
Johnson's reputation for producing some of the best crappie baits on the market continued this year with the Crappie Buster Shad Scales. This new attractant proved itself already as a go-to tool for Pro staffer, Richard Williams, and his fishing partner, David Jones, who recently won the Cabela's USA Crappie Tournament Championship held on Lake Cumberland, Ky.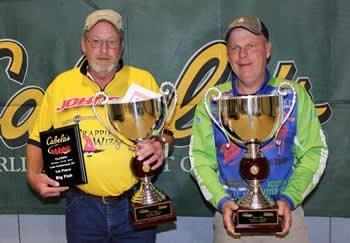 Weighing in over 19 pounds of crappie during the two-day event gave the pair a narrow .04 ounce victory.
"This was a close one," said Williams. "There is no doubt that we would not have caught the fish we did without using the Shad Scales. On Day Two, I was using the Shad Scales and my fishing partner had forgot to put it on his baits. I had five fish in the boat and he hadn't caught one yet. That is a testament to what Shad Scales can do. Immediately after he realized the error he used Shad Scales and caught a fish on the first cast."
Williams is also credited for landing the largest fish of the championship, a 2.41-pound crappie that also fell for the Shad Scales.
"We knew it would be tight, but we trusted our products and kept our heads down," said Williams. "The first day went really well for us, but we did have a little drop in productivity on the second day. I think the fish just moved out on us. I'm just glad I had enough Shad Scales in the boat to make it through the event."