Riddle and Maddox Capture Beaver Lake Crappie Masters Event
Johnson Shad key to one-day total of 9.62 pounds to win
With each crappie tournament, the secret is getting out that Johnson Shad Scales get big bites. First came Richard Williams' win in 2014 on Lake Cumberland, KY. This time it was Jeff Riddle and Dave Maddox winning with Shad Scales on Beaver Lake with a one-day total of 9.62 at the Bass Pro Shops Crappie Masters this past weekend. With the win, the Johnson team came away with a winning purse of $2,400.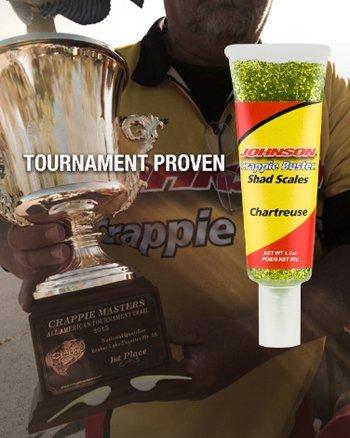 Riddle and Maddox caught their seven-fish limit 20 to 30 feet deep using Johnson Shad Tails combined with the slow-releasing Shad Scales. This downsized and injected Johnson soft plastic technique is contradictory to what most anglers have been doing recently.
"Typically, crappie anglers have been using larger profile baits," said Riddle. "We went against that and downsized to the lemon/white Johnson Shad Tails with the Shad Scales to get the bigger fish to bite. Those Shad Scales really were important. The entire Crappie Buster line from Johnson is great. The hollow bodies is designed to inject the Shad Scales and it directly imitates a feeding frenzy that big crappie can't stand."
This event is the first win by the team of Riddle and Maddox. Although they have had multiple close shots, this is the first time the duo has closed the door on victory.
"This feels great to be on the winning side," said Maddox. "We've been close so many times, but we haven't been on this side. Johnson brought us on the team this year and the entire line of Crappie Buster products have really been a game changer for us. I can tell the difference the Johnson line of Crappie Buster baits make on the water."