Bucket-List Fishing Trips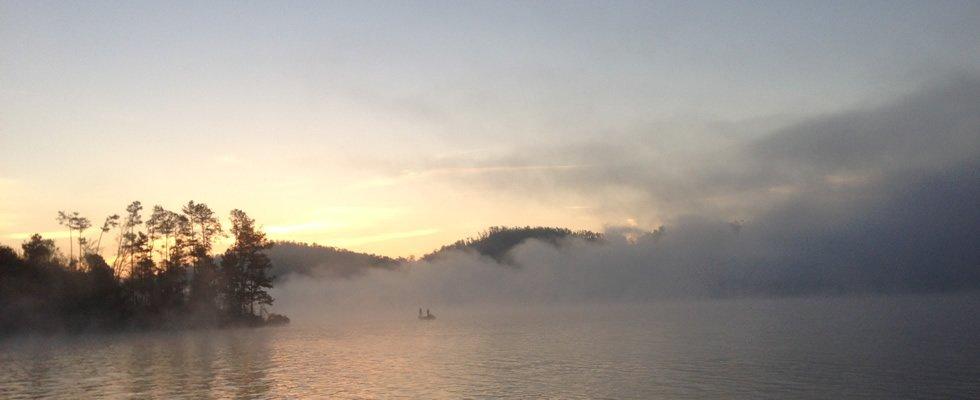 Fishing is an incredibly enjoyable outdoor activity, but our busy lives inevitably prevent us from going as often as we'd like. When we get the opportunity, we typically stick close to home to maximize our time. Every once in a while, we get the chance to take a destination trip – a true fishing vacation. These are the trips we spend hours planning for by conducting map research, organizing tackle and staying current on conditions such as moon cycles and water temperatures. These are the destinations every serious angler must visit in their lifetime; these are fishing's bucket-list trips.
Toledo Bend Reservoir
In 2015, the 185,000-acre Sabine River impoundment was named the top bass fishing lake in the country by Bassmaster. Toledo Bend, which straddles the Texas-Louisiana border, was once known as a good numbers lake. Thanks to the stocking of Florida-strain largemouths, it's now your best bet at catching a double-digit largemouth bass. In February 2016, it produced a certified 13.15-pound monster. This fish was recorded just two weeks after a certified 12.2-pounder was caught and released. Even if you don't catch a 10-pounder, there are many fish in the 3- to 5-pound class to keep you busy.
Lake Erie – Western Basin
Lake Erie is unique in that it is both a world-class walleye and smallmouth bass fishery. Walleye anglers can troll crankbaits or spinners and catch huge fish. In fact, no other body of water produces the poundage per acre of walleye that Lake Erie does. Smallmouth anglers often target rock piles with a Berkley® Dropshot Power® Bass Minnow around Pelee Island and the Bass Islands. Port Clinton, Ohio, is a great place to launch and it's considered the Walleye Capital of the World. If the wind blows and the water gets rough, visit Erie's more protected neighbor – Lake St. Clair.
Lake Okeechobee
Known as the Big O, Lake Okeechobee thrives as Florida's winter weather getaway for anglers. While most of the country is trying to survive the cold and snow, Okeechobee gets hot in mid-February. Some of the more popular areas of the massive 450,000-acre lake include the Monkey Box and the North Shore. Your best bet at an 8-pounder is by soaking a golden shiner, but giant largemouths are also caught in the thick vegetation with jigs or a Texas-rigged Berkley® Havoc® Pit Boss®. Launch out of Roland Martin Marina on the south end in the town of Clewiston.
Boundary Waters Canoe Area Wilderness
The BWCAW straddles the international border between northeastern Minnesota and Ontario. No motor motorboats are allowed on these 1,000-plus pristine glacial lakes and rivers. Instead, there are over 1,200 miles of canoe routes to explore. Set against a rocky, picturesque backdrop of spruce, pine and fir, visitors will likely encounter black bears, loons and perhaps an occasional moose. More importantly, the BWCAW offers world-class smallmouth bass, walleye and lake trout fishing. Fishing below rapids or in current seams is a proven angling method here.
Disney Lakes
On the opposite end of the wilderness spectrum are the Disney Lakes, a series of privately-managed lakes that lie completely within the Disney property. While fishing on Bay Lake and the Seven Seas Lagoon, visitors can set the hook on an 8-pound largemouth while eyeing Epcot in the background. A perfect bucket-list trip for the family, anglers can catch a few dozen largemouths in the morning before hitting the theme parks. The use of Disney guides is required, but these experts are worth the price. Live bait in the form of shiners is provided, but artificials, such as a swim jig and Berkley® Havoc® Grass Pig™, can also be used effectively.
Lake Guntersville
No angler's bucket list would be complete without a stop along the famed Tennessee River. Northern Alabama's Lake Guntersville is and always has been, the most productive lake of the bunch. While there might not be a place in the country that receives more fishing pressure than Guntersville, it continues to produce. Guntersville is famous for its big bucketmouths, but it also boasts excellent crappie fishing. Guntersville is also the birthplace of the five-wire umbrella rig system, so tie on a Berkley® Schooling Rig™ to mimic an entire school of baitfish.