Crappie Fishing Tips and Techniques
This crappie fishing addiction I have started fifty-five years ago, and it began when my father took me crappie fishing when I was six years old. From that day on, after I caught my first crappie, I have been hooked for life. Every year since then I have always looked forward to the three weeks in spring and the three weeks in the fall for a good time crappie fishing on the weekends with my father. Most people laugh today when I tell them this story, but back in the 1950s that was the only time people thought they could catch a good stringer of crappie. As the years passed and crappie tournaments came around, I started leaving the Missouri lakes and going to compete in other lakes around the south, and found out that there were many different techniques for catching crappie year round.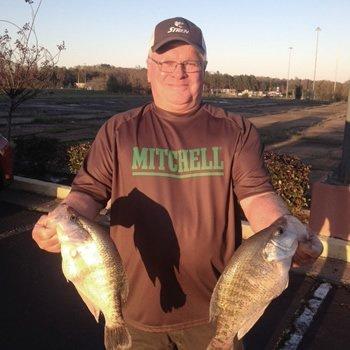 Two of these techniques are called spider rigging and long line trolling, and both are good ways to catch pre-spawn fish and post-spawn fish. Spider rigging is done by trolling eight polls from the front of the boat with double hook minnow rigs or two jigs on each line. Long line trolling is done by casting eight polls from the back of the boat with either curly tail jigs or tube jigs. When using a spider rig you normally run a trolling motor at a speed of 0.1 to 0.5 miles an hour over brush piles, secondary points, and creek channels. The same is done with long line trolling except the speed will vary from 0.5 to 1.5 miles an hour. When learning these trolling methods I suggest going with a friend or hiring a guide to show you how to set up your boat and fish the trolling techniques so that you become comfortable with the new methods. This will save you a lot of time and will make you a better crappie angler.
Here are some of the most important things to remember when crappie fishing:
Patience and presentation
Always acquire a good map of the lake, or your Navionics chip for your fish finders, as this will help you understand the contour of the lake
Before heading out on the water, get all of the fishing information that you can from bait shops and conservation agencies
Always remember crappie react to sight, sound, and smell. This means have plenty of crappie jigs with you of different colors and a good fish attractant scent
Equip your boat with fish finders that also function as a GPS, and keep one on the console of your boat and one on the front of your boat. Fish finders that double as a GPS are essential for marking your way points, as well as side imaging and down imaging
Always keep a fishing log book, as it will help you keep track of what colors and which methods you used in which weather conditions
These are some of the keys techniques you should keep in mind when going crappie fishing. Here are a few more things for you to remember to make you a better crappie angler:
When trolling for pre-spawn fish, always remember that the best time to troll is when the water temperature is between 39 and 54 degrees. During this time, troll over big schools of shad and you will find most of your crappie feeding.
During the crappie spawn there are several different techniques, such as:

Casting a cork under a jig
Flipping a jig with a long pole
Trolling single quarter-ounce jigs in shallow water
Long line trolling in shallow water

Post-spawn time for crappie is usually during the summer months when the water temperature reaches 78 to 85 degrees. During the post-spawn months, the best method to use is slow trolling off of the front of your boat with double hook minnow rigs.
Always remember: muddy water use dark jigs, clear water use light jigs, and in stained water my favorite jig is June bug and chartreuse.
When vertical jigging I always use Stren Original Hi-Vis Gold eight pound test. The reason for Hi-Vis Gold is because you can watch for a line bite better.
I have been fishing for crappie for over fifty-five years, and every day I still find myself learning new techniques on how to catch more crappie. Always remember to be versatile and willing to change when the bite slows down. I hope these different tips and techniques will help improve your catch the next time you go out.
By Paul Alpers
(P.S. Always remember to take a kid fishing when you get a chance.)