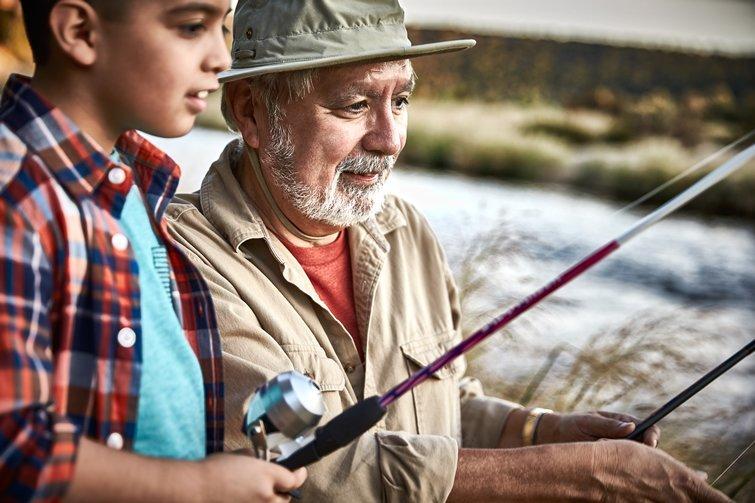 Back to School special
When teaching fishing to newcomers, mastery of basic principles pays the biggest dividends -- to student and instructor alike!
Let's get rid of one misconception right off the bat.
Catching fish IS important!
So often casual anglers and even the occasional avid angler will tell us that it really isn't important whether you catch fish or not...that just "being out there on the water" elicits sufficient pleasure and satisfaction to offset a fishless day.
With all due respect to the totality of the angling experience…save that sentiment for your daily journals! If you are planning to take a would-be angler on the water for the first time, plan carefully, be selective, and do everything possible to turn your student's first fishing experience into a fish-catching experience.
As the head of a city program that has exposed 10,000 to 14,000 children annually to fishing once observed: "The idea of going fishing and not catching fish is incomprehensible to a kid."
Some argue the virtues of working hard for that first fish, but those with experience with kids' fishing programs will tell you that the fish-catching experience itself is the first step on the road to becoming a life-long angler and that catching fish at an early age is a common thread woven through almost every avid angler.
Set in your mind a few fundamental principles before you take to the water:
Leave the drill sergeant mentality at home when taking youngsters or any newcomer to the sport. Keep the lessons short, interesting, practical and fun.
Choose waters and locations that will optimize chances of catching fish and the overall experience.
Don't worry about the size or even the species of fish. Keep the focus on activity and excitement.
Select tackle that the student can easily handle, and make sure that it is fluidly operational before you put it in his or her hands.
Recognize that the attention span of a child - or even an adult not as committed to the sport as you are - is apt to be brief. A good rule of thumb is to limit early session lengths from 45 minutes to two hours with children.
Try to end the session on a high note.
Fill the day with novelty and action
Fishing is filled with the excitement of sight, bite and fight -- seeing fish, noting signs of baitfish activity, watching bobbers twitch and submerge…the thrill of flexing rods, jumping fish…the rush of confidence that a good cast brings…the sound of a screeching drag.
Drawing attention to and showing appreciation for each singular element of the experience will heighten the awareness level of your "student" and elevate the overall enjoyment of the experience.
When possible, put these principles into play.
Practice casting - Try to work on basic casting skills before you get to the water. Tangles and errant casts can be frustrating. Often they are avoidable with a little preliminary practice of basic skills. If your newcomer seems unlikely to handle casting situations well, consider a simple long pole set up - sans reel!
Bait 'em - Bait selection itself can be an enjoyable and educational experience. If live bait or even cut bait is your approach to the day's fishing, involve your newcomers in your choice. Point out the differences between the types and sizes of minnows in the bait shop tanks - shiners and fathead minnows versus chubs and golden shiners, for example. Open a box of red worms or a container of wax worms and watch eyes light up with the writhing energy that you will soon add to their hook. Leeches, crickets, nightcrawlers, spikes…each has a story to tell. Be sure to keep baits cool and out of excessive sunlight. Add an oxygenator to your minnow bucket or change the water regularly to keep baitfish lively.
Catch your bait - Catching night crawlers with a covered flashlight after a fresh rain or catching chubs and river shiners with size #12 or #14 Aberdeen hooks and a tiny chunk of night crawler is a terrific way to add action, wonder and excitement to the fishing experience. And the thrill of catching a fish on bait you have caught yourself is long remembered.
Artificial bait - Fishermen have the option today of substituting artificial baits for live bait. The Berkley Gulp! and Berkley Powerbait lines include soft baits impregnated with natural fish-attracting scents and stimulants. Many come in the shape and color of natural baits. Keep several jars or packages of these convenient bait options at the ready. Often these will perform as well or even better than natural baits - especially when the live bait options have begun to deteriorate. And when action gets hot, the durability and ease of handling of these baits is a godsend. Hall of Fame angler Don Dubin touts the Berkley Powerbait Honey Worm as the finest artificial bait on the market today for panfish.
Think small! - Start with simple light tackle and bare bones rigs. If panfish are your targets, "light" is right. That is, light line and small hooks and baits will almost always outproduce the beach ball bobbers and other oversized terminal tackle most anglers bring to the water.
Avoid the 'bluebird' days - A cold front following a string of steamy summer days may bring physical relief, but it is unlikely to improve the fishing. In general, stable conditions favor a better bite. Humid, hazy or overcast conditions are generally better than bright bluebird skies. Play the weather if your schedule permits.
Keep it simple - Omit unnecessary size and encumbrance to your terminal rig. Use the lightest, smallest most sensitive floats (a.k.a. "bobbers") appropriate to your bait and rig. Scale down hook size to the bait you are using and your target species. Carry a variety of hooks in the #4 to #12 range to accommodate the different types of baits you will be fishing. A light hook, with or without a small bobber, with just enough split shot positioned above the hook to keep the float upright is a simple rig that can be very effective for many species in many fishing situations. Keep bottom rigs simple, too.
Fill the gaps - A drought in the action is inevitable, of course. Be prepared to fill the gaps with the "tools" at hand. Have favorite snacks and drinks ready to serve when hunger, thirst or boredom creep in. Take a few minutes to explore the tackle box, explaining the use of lures and tackle. Kids are often fascinated with the baits themselves. Nurture that healthy curiosity with interesting details about the critters and how they factor into the environment and diets of the fish you are after.
Be flexible - Take what nature gives you on these exploratory outings. Panfish need not be the target. Catfish or even carp can provide great sport and excitement. If largemouth bass are abundant and your "student" has the skills and focus to fish artificial lures, be prepared to provide a lesson in fishing a lead head jig combination or a wacky worm. These are simple rigs with a lot of carryover value as angling education advances.
Feast on abundance - Lakes with stunted bass or panfish populations are great places to bring newcomers to the sport. Take advantage of the abundance and hot action by teaching a variety of techniques with basic lures and rigs. Sometimes it's easier to goad stunted gamefish into striking than to coax hits from the generally eager sunfish family.
Fishing is a fascinating sport with countless layers and dimensions. Much of its beauty derives from the fact that you can keep it simple or take it to higher levels or even complex extremes and still find levels of understanding yet to be explored!
Start with the basics and build from there.
And keep it forever fun!