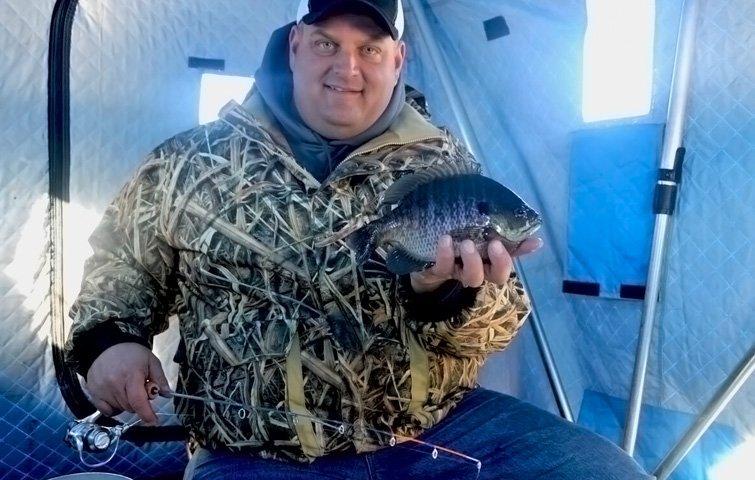 Ice fishing is fun and a surprisingly effective way to catch fish. And with the equipment and apparel now available, there's no need to be left out in the cold!
When the hard water arrives, look out, fish! The icemen cometh!
Ice fishermen comprise a surprisingly large and growing group within the angling fraternity. That may come as a surprise to many. The idea of cutting a hole in the ice to drop a tiny bait on the nose of a fish may seem like finding the proverbial needle in the haystack. But with a little thought, planning and the right equipment, finding and catching fish through the ice can be surprisingly easy - and incredibly fun!
Of course, ice fishing doesn't usually find Mother Nature at her most hospitable! But if the prospect of facing winter weather seems a deal breaker in itself, you owe it to yourself to check out the cold weather apparel options and the compact creature comforts like ice shelters and portable heaters and stoves that the icemen bring to the wintry landscape today! No wonder so many little villages of ice shelters pop up on popular lakes each ice fishing season!
And if you are still wondering why ice fishing continues to gain in popularity, well, once you taste a meal of freshly caught perch or crappie caught through the ice, any lingering doubts will disappear in a rush of mouthwatering delight!
But, make no mistake, ice fishing requires thought, planning and preparation not only for success and comfort but for personal safety as well. Every year, many ice anglers face the embarrassing and sometimes painful consequences of poor planning, bad judgment, and taking to the ice with ill-advised clothing and equipment. Don't be one of them!
Friendly waters
Don't be too ambitious in your first few ice fishing adventures. Small familiar waters are the best place to begin. If possible, find out where your target species gathered on those waters late in the open water season. The odds are the fish are still in that area.
You can also take a "small waters" approach to the big waters in your area. Fish commonly congregate in bays, harbors, backwaters and channels off of larger rivers, lakes and lake systems just prior to ice formation. These areas - generally shallow - are the first to freeze, and they are often early season hot spots for a variety of species. You may find a multitude of anglers gathered at such spots. Be courteous and respectful. Don't crowd other anglers. But don't be intimidated either. You can learn a lot by studying the area and watching other fishermen. The ice fishing fraternity tends to be friendly, too. So don't be afraid to ask a few questions.
Another advantage to fishing popular areas is safety. Follow the paths that others have taken to safe ice. Avoid areas with slush or other signs of thin or soft ice. Look out for others, and others will look out for you.
Ice fishing essentials
Ice rods and reels
You may feel like a Munchkin the first time you pick up an ice fishing rod, but the 24- to 36-inch rods designed for the hard-water game will make sense when you hover over a six- to eight-inch hole in the ice. Ice rods come in different styles, lengths and actions to match different types of lures, baits and presentations and the different species you will target. Longer rods measuring 40 to 48 inches have come into play more in recent years not only to wear down larger fish but to create more distance between angler and the hole when targeting wary fish in shallow water. Ultralight reels prevail, and those designed for ice fishing tend to be significantly less expensive than corresponding open water reels. Round "straight line" reels resembling those of fly fishermen have gained popularity in recent years, too. Species like bluegill, crappie, redear sunfish and perch are the primary prey of most ice anglers, and the equipment you will need for them is simple and inexpensive. Shakespeare offers ice rods and ice fishing rod/reel combos in its popular Ugly Stik series. These rods offer the same combination of durability and sensitivity that have characterized the brand since its inception. If you are investing cautiously in ice fishing equipment -- just dipping a toe to test the ice water, so to speak -- Shakespeare also sells a very economical ice rod under its Wild Series sub-brand.
Auger and accessories
Ice augers are spiral cutting tools to make holes in the ice. Hand augers have become very reasonably priced in recent years, and those with so-called "lazer" blades do cut through ice more efficiently than those with conventional blades. Augers come in a variety of sizes to create holes ranging from four inches in diameter to 8 inches or larger. Smaller diameter augers are easier to use, but the hole they create may be too small to bring a large fish through. Gasoline or battery powered augers take much of the physical labor out of hole cutting and allow the angler to cut more holes and fish more water. They do require a more substantial financial investment, however. Make sure you have one or more strainer-type ice scoops along as well to scoop ice shavings and snow out of the holes.
Seat/bucket
Five-gallon buckets are versatile pieces of equipment. You can use them to carry gear, rest rods, and keep your fish. They make great seats, too, as you patiently work a productive hole. Your local tackle dealer will have bucket caps designed for your seating comfort or tackle storage needs.
Rod holders
Rod holders are useful tools. Some fit conveniently on the rim of a five-gallon bucket. Others are stand-alone models that elevate your rod and reel just off the ice for easy positioning over the hole. Try both designs and determine which serves your needs best.
Pliers and forceps
Carry both needle-nose pliers and small forceps to remove hooks from fish and to secure split shot to your line.
Sled or other conveyance
A flat-bottomed plastic sled is a good way to convey your equipment. Choose one large enough to carry your essentials with a little extra space for a last minute addition. Pack the sled carefully, and be mindful of your load as you walk the ice and snow. A snowmobile or ATV will give you access to much more water and facilitate your travel. But you will have to be even more mindful of what you pack and how you pack it. Keep in mind, too, that these vehicles add to your overall weight and risk on thin ice!
Think light: light line and small baits
Cold water fishing calls for light line, small baits and slow "in-your-face" vertical presentation to the fish.
Line
Downsize your fishing line for ice fishing. In open water, line of 6- or 8-pound test may qualify as "light," but ice anglers commonly scale down to 4-, 3-and 2-pound test with 1-pound line a serious option as well. Fish below the ice are sluggish, and they will not put up as hard a fight as they will in warm water conditions. More importantly, the small baits you will be using display freer and more enticing action on a light line. Choose lines like Berkley Trilene 100% Fluorocarbon Ice, Berkley Trilene Cold Weather, or Stren Ice or a superline like Berkley Fireline Fused Micro Ice. These lines remain limp and supple in the cold, and they reduce coiling.
Terminal tackle
Carry a supply of split shot weights in varying sizes. These weights help get your baited hooks and light jigs down quickly. They can make it easier to detect a light bite, too. Soft shot weights are less likely to weaken your line. Regardless of the weights you choose, apply only enough pressure to secure them to your line. As for hooks, carry a mix of light wire hooks in a variety of sizes. Small hooks in the size #8 to #14 range will serve well with small delicate baits like mousies and waxies. For minnows, start with hooks of size #4 and #2, adjusting with larger or smaller hooks to match the size of minnows you are using.
Jigs
Downsized jigs will be the lures of choice for the majority of your ice fishing. Most of the time, they will be used in conjunction with either live bait or small soft plastic baits -- and occasionally both. Have a mix of tiny spoon-like jigs and lead or tungsten jigs in several head designs. Again, match your jig/hook size to your bait and prey. Your jig stock should run from1/32 or even 1/64 ounce micro jigs up to 1/8 ounce or larger jigs for minnows and deep presentation.
Live bait
Check with a knowledgeable tackle dealer on what baits are available and effective on your local waters. Waxies and mousies are larval baits that seem to be universally effective for panfish. Minnows will catch crappie and larger species.
Artificial lures
You can add very small soft plastic lures in various shapes to jigs or purchase tandem jig/trailer combinations. Berkley offers a number of very effective soft plastic and biodegradable baits for ice fishing under its Powerbait and Gulp! sub-brands.
Electronics
Portable depth sounders have become quite affordable, and they can make your ice fishing far more productive and more fun. They range from sophisticated units with GPS tracking and multiple screen capability to handheld units with liquid crystal display. Color flasher units remain very popular. Underwater cameras can add another dimension to your angling as well.
Tip-ups
If you would like to set a line for larger fish like bass, northern pike and walleye while you actively fish other holes, consider purchasing a few tip-ups. These devices come in both round and rectangular configurations. They are designed to straddle the hole and are equipped with a flag or other signaling device to indicate when a fish has taken the bait.
Presentation
Gearing up is half the battle. Now it's time to fish!
Certain lures and occasions demand aggressive presentations, but most ice fishing calls for either subtle movement of your bait or periods of active bait movement to attract fish in the area followed by a pause of varying length.
Basic jig presentations include a lift and drop or series of lift-and-drop motions followed by a pause; a subtle quivering motion of your bait; combinations of active and subtle bait movements; and motionless "dead stick" presentation.
Vary your rod movement and your bait's position in the water column often until you dial in what the fish prefer that day.
Make sure you have several lure and bait options at your disposal. Change lures and baits occasionally until you have found the combination for the day -- or at least that hour! Change lure colors, too. It's good to have a mix of chrome and gold spoons and jigs and a variety of other colors, too -- particularly chartreuse, orange, yellow, black and white.
So join the ice fishing brigade this winter season. You'll love the fresh air, fresh fillets and fishing action!