Inshore Fishing: Variety, sport and adventure!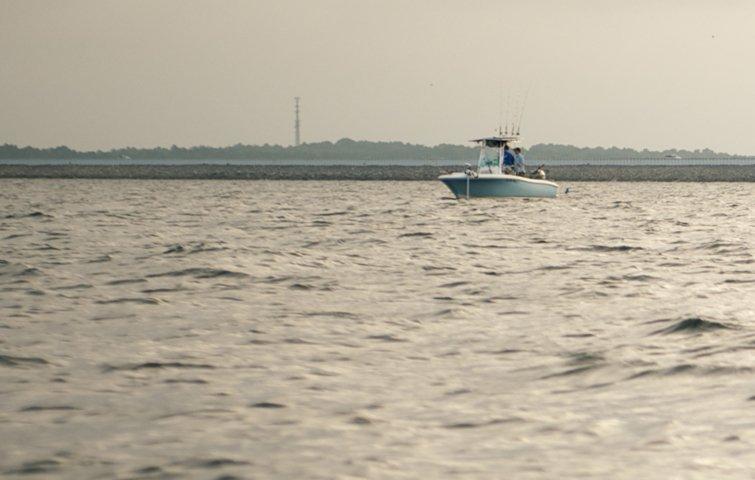 The sight of the sea forever stirs the souls of anglers. Often we measure its vastness in imagination by the magnitude and variety of its bounty.
But while offshore fishing for denizens of the deep requires craft and crew up to the task, "inshore" angling opportunity rests well within the reach and means of many.
The coastal waters of the Gulf of Mexico and Atlantic and Pacific seaboards are relatively close to home for many Americans. They are also the playgrounds of millions of vacationers each year, many of which would love to test their luck in those nearby waters -- if only they were equipped adequately and knew where to start.
Inshore fishing has special charm. It combines the accessibility of freshwater fishing with the looming prospect of saltwater excitement. And the angler can choose his or her level of sport.
Harbors, channels, bays, flats, inlets, levies, bridge areas, lagoons, estuaries and inland waterways offer a wide mix of pan-size table fare, light tackle game species and the ever-present chance at an encounter with a fish straight out of an adventure book!
The species offered vary from region to region, and every area has its own favorite whether it's striped bass in Chesapeake Bay, redfish and sea trout along the Gulf Coast, calico bass off the San Diego shores, or bonefish and tarpon in the Florida Keys.
The accessible sea
Inshore fishing's appeal and popularity relates to its similarity to the styles of freshwater fishing inland anglers have encountered – fishing live bait with float or tightline; casting spoons, hardbaits and jigs tipped with plastics or live or cut bait; or even fly fishing.
Shore fishing opportunities abound. Many more species are easily pursued in small craft.
The difference between freshwater and inshore fishing is the magic and magnitude of the offerings from the sea. You will encounter far more species in a wider range of sizes, looks and shapes. Some are dazzling, some plain, some monstrous…some just strange.
In short, even when targeting a favorite species, you never know what you are going to catch!
(Bait and souvenir shops in many areas carry pamphlets or laminated plates with photos or illustrations of common species in area waters, sometimes highlighting defining characteristics of the species for identification. It's always nice to have such a reference guide with you when fishing inshore area especially when you are fishing a new locality.)
If your prior fishing experience has been limited to freshwater, you may be surprised at the strength and spirit of inshore species. Most fight longer and harder than freshwater species of comparable size.
Whether you are on a quick visit, a long vacation, or planning to dwell in a coastal area for life, you will want to find a friendly tackle shop with knowledgeable owner and staff willing to answer your questions and offer reliable tips and perspective on fishing area waters. If time and pocketbook permit, book a respected local guide or charter service to get a feel for the species and style of fishing they offer. Pick local brains for information on other opportunities as well. The species at your reach and techniques used to catch them will vary widely wherever you go.
Inshore insights and tips
Inshore fishing makes evident one of fishing's most appealing and practical truths — that you can make it as simple and easy or in-depth and complicated as you like. But here are a few fundamental tips and observations that can tip the odds in your favor whatever the species you target or style of fishing you employ.
Heed the tides — Tides direct the activity levels and locations of fish in coastal areas with few exceptions. Experienced inshore anglers know this, and, when possible, they try to time their fishing to fish areas where fish congregate during their most active periods. Talk to local experts about fish movements and locations during high and low tides. Most areas publish booklets pinpointing tides at specific locations. Often you will have to adjust your timing to the reference points listed. In general, periods of moving water – incoming or outgoing tides – produce more fish activity than low or peak tide.
Match tackle to species and technique — True, you many encounter a wide range of species, big and small, no matter what approach you take. Still, you will elevate your level of success and enjoyment by gearing up appropriately to the task. Match rod, reel and line to the lures, baits and terminal rigs you will use and to the species you are likely to encounter. Carry sufficient terminal tackle to withstand the frustration of snags and encounters with big fish.
Handle with care — Consider the safety of fish and fishermen before you head to the water. Have needlenose pliers and forceps and other appropriate tools to remove hooks from fish. Check with the locals on species that may be difficult or even dangerous to handle. Most tackle shops carry gloves designed for effective and safe fish handling. Long-handle landing nets may be useful or even essential in some areas.
Keep bait fresh — Inshore areas offer game species a smorgasbord of foods, so try to bring several bait options to the water. Keep live bait cool and, if necessary, aerated.
Add shrimp to the menu — Shrimp are a staple of a very large number of species in many coastal regions, and bait shops tend to carry both live and frozen shrimp so that anglers can cash in on their popularity. Make sure your hooks are appropriate to the size of shrimp or any other bait you intend to use.
Tackle tips
Some anglers compare inshore fishing to freshwater fishing on steroids. Inshore tackle tends to follow a similar pattern of muscular upgrading – rods a little longer with a bit more backbone; reels with greater line capacity and tougher, more reliable drag systems; lines of higher tensile strength and abrasion resistance.
In general, inshore rods have more parabolic actions – that is, a rounder bend – to enable long casts and to absorb the powerful and quick surges of muscular game fish.
Some of your freshwater tackle will serve you equally well in inshore applications, but saltwater is highly corrosive, and it is always a good idea to rinse rods and reels well with fresh water after an outing to remove salt and debris. Rods and reels designed for saltwater angling usually feature components made from materials resistant to the corrosive effects of seawater.
Shakespeare offers a wide range of rods for all types of saltwater fishing from casting live bait from shore to trolling for big game. Check out the popular Ugly Stik line-up, renowned for its durability and ability to land even the toughest and toothiest critters in the sea.
Whether you are a coastal resident or a seaside tourist, you will want to take advantage of inshore fishing opportunities whenever you can. It's an exciting sport.
And you never know what you are going to catch!