Spring Clean-up: Preparing Your Gear for the Season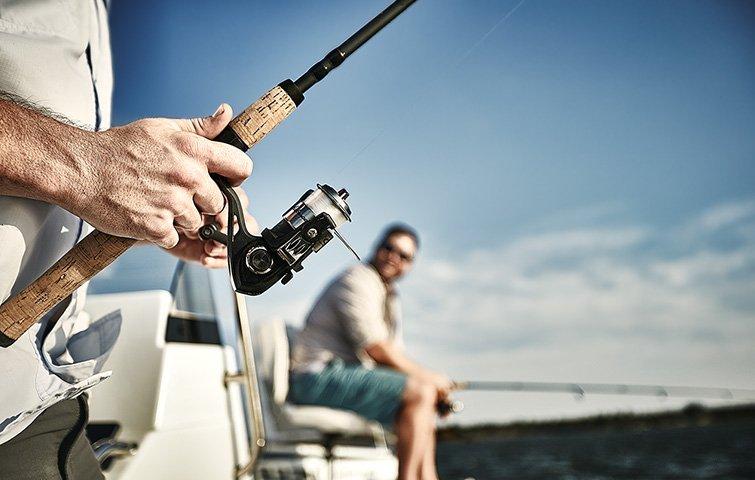 Start off the new fishing season with fresh line, rejuvenated tackle and a clean slate!
The snow and shoreline ice are melting on your local lakes. Conditions are too iffy to ice fish but you are days or weeks away from open water fishing.
Cabin fever's got you like the last day of a bad cold.
There's only one cure.
Get your tackle ready for spring!
Tackle maintenance
Last fishing season produced a lot of memories, but accumulating the gunk on your tackle is not among the most cherished.
Begin your clean-up effort with some simple maintenance maneuvers with the tools that matter most - rod, reel and line.
Reels
Cosmetics come first. Clean off dirt, grime, fish scales and slime before you dig into the inner workings of your reel. You're off to a fast start with discernible results! More importantly, that surface soil won't work its way into the gears.
You will want two types of lubricants - reel oil and reel grease. (Berkley Reel Oil and Reel Grease are easy to find and affordable.)
Gears get the grease. Apply oil to joints and entry points. Be sure to add a drop or two to knob joints on the reel handle. Clean all cavities and entry points of build up and debris before applying your lubricant.
Line
Line neglect is the most frequent cause of angler misery.
Line that looks old probably is. If it coils up nastily when you pull an arm's length of line from the spool, odds are you are headed for trouble. If you are confident the line is still fresh and want to give it a second chance, squirt some line conditioner on it, let it stand, then spray some more on later. Then execute a few casts to test the results. If there's any doubt at all about its quality, take it off and add fresh line.
Note the amount of line on the spool, too. A reel cannot perform well with either too little or too much line. If line does not reach to within 1/8 inch of the rim - 3/16" if you are using stiffer fluorocarbon line - you will want to replace or add line. If you plan to add line by splicing fresh line to the line on the spool now, make sure that you are adding enough line so that you are don't have to deal with a splice knot on a cast or while fighting a fish. A good rule of thumb is to add at least 50 yards of fresh line at a time.
This winter preparation period is also a good time to decide if you want to try a different line this season or experiment with several different lines. The proliferation of fishing lines in recent years offers a nearly ideal solution to every technique and fishing situation. Do a little research and make an intelligent change.
Most lines benefit from a generous squirt of a quality line treatment immediately after you've spooled your reel and once again shortly before you take to the water.
Check the condition of your line throughout the season for abrasion, twist and wear. But take care of this all-important matter now if you want to get off to a problem-free start this spring.
Rods
Rod blanks come clean quickly. Cork handles might take a little more work. Mild soap and water will get the bulk of the task done. If you must, step up carefully with stronger liquid cleaners, checking the warning labels on usage first. Avoid abrasive cleansers. Wipe the rod clean with a clean rag or paper towel afterward.
Clean the ferrules on two-piece rods. If the fit is loose, apply ferrule wax. A stubborn fit usually requires no more than a little skin oil. Rub the male end against your nose, through your hair or behind your ear. That's usually all the lube you will need to make the ends fit.
Terminal tackle
Go through all your tackle bags, boxes and trays and take inventory. Organize your tackle in a way that makes every item accessible and easy to find.
Take stock of your terminal tackle as well. By the end of the fishing season, bait hooks, floats (bobbers), and sinkers have migrated from last year's starting point. Replenish short supplies. Determine what items you would like to upgrade for the coming season, too. Now might be a good time to trash those decades-old straight snaps and snap swivels and replace them with Berkley Cross-lok snaps and snap swivels.
Make sure you have easy-to-overlook items like leader material and 3-way swivels if they are likely to factor into your fishing this coming season.
Make sure you have all the accessories you will need, too, and that they are conveniently placed so that you have them on every outing and can reach them at your earliest need. Have forceps and/or needle-nose pliers and tape measures for length limits in every tackle bag. Replace the batteries in flashlights and electronics, and see that they are all in operating order.
Check your landing net, too, for torn mesh or a weakened rim. See that the net is still sturdy and capable of handling a sizable fish.
Lures
Nothing gets the nostalgia pumping like going through trays of lures. But now's the time to get practical - even ruthless - regarding what goes into your arsenal.
Organize your lures in a way that makes sense to you. Whether you decide to put all lures of a certain type (lipless crankbaits, jerkbaits, spinnerbaits) or category (topwater, medium divers, deep-running lures) together or organize them by season or species is your choice. Tackle organization should always be about having what you need available when you need it without the help of a moving van!
Odds are that moisture did some damage somewhere. Change out rusty hooks with a pair of O-ring pliers. Upgrade hooks when you can, especially on your favorite and most productive lures.
Organize jigs by styles, weight and function. Throw out rusty jigs. Replace jig, buzzbait and Spinnerbait skirts where necessary.
Tackle organization
Check out your tackle boxes and bags, too, and decide if they fulfill your on-the-water needs.
If your tackle and supplies have outgrown their homes, it might be time for you to provide them with new digs.
Shakespeare offers a number of tackle bags and tackle boxes for easy carrying and travel.
And don't forget about the family during this clean-up period. Have the kids join the effort. Time spent in organizing and replacing their tackle now will pay dividends on the water. At the very least, you are likely to generate excitement for the coming season!