Reese Wins Guntersville Event - Again
Skeet Reese claims eighth BASS title on Guntersville
April 12, 2015
It has been a few years since SpiderWire pro Skeet Reese has fished and won on Lake Guntersville, 2010 to be exact. This past weekend Reese won $100,000 and the B.A.S.S. Elite Series event held on the fabled waters. Reese won the event despite a poor practice, posting a total of 92 pounds, 11 ounces over the four-day event.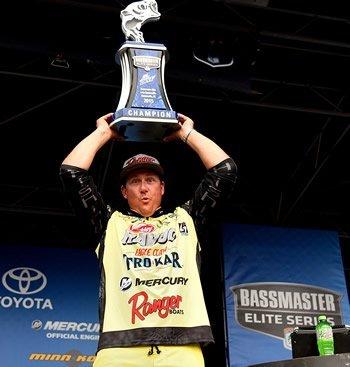 "It couldn't be scripted any better," said Reese. "When you have the type of practice I did you just don't win these things. It wasn't complete hopelessness, but it was getting close. I felt I had a decent plan, but nothing solid."
Fishing near Siebold Creek, Reese threw a big swimbait around laydowns and structure in the shallows using 65-pound SpiderWire Stealth tied to a 25-pound leader.
"This type of fishing requires big line." said Reese. "The 65-pound SpiderWire Stealth is sensitive and very abrasive resistant. I fished some big laydowns and it helped get those fish out of the junk quick. Plus, you can feel so much with the line and when fish are biting light you have to have a line that can sense that."
Next up for the Elite Series event is April 30 – May 3 on the Sacramento River in Sacramento, California. The west coast swing should be very appealing to Reese since he is a California native.