Bobby Lane and SpiderWire: In it for the long haul
Slugging it out on the professional bass fishing scene for more than a decade, SpiderWire's Bobby Lane is headed for his eighth Bassmaster Classic. Lane has the same attitude about that early March trip to Grand Lake O' the Cherokees as he does every bass tournament he enters. Win it.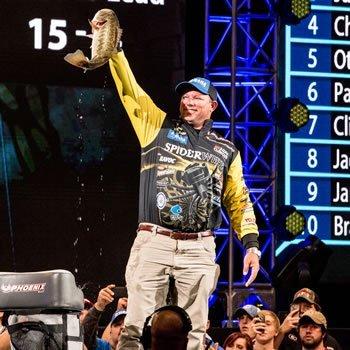 "I set goals every year and my main goal is to win," says Lane and his approach almost took him to the pinnacle right away in 2015 as the Bassmaster Elite pro came close to the Classic title at Lake Hartwell in February. After falling one fish short of a limit on a first day that saw temperatures as low as 10 degrees, Lane posted 17- and 19-pound limits the last two days to finish second to local pro Casey Ashley.
Victory barely eluded Bobby Lane a month earlier at the first Southern Open of the year at Florida's Lake Tohopekaliga. That second place prize of $20,267 together with his $45,000 Classic check was the start to one of the better money years for the Lakeland, Florida angler.
The 2015 season followed a 2014 of steady fishing strong enough to make the Classic, but lacking in big checks. The Elite events guarantee at least a $10,000 payout to Top 50 finishers, the Opens offer at least $2,000 to Top 40 pros. Counting all the Bassmaster tournaments he's fished, Bobby Lane has 75 Top 50 finishes.
Consistency is the hallmark of a true pro and Bobby has earned over a million dollars in his 10 years on tour, yet timing is everything.
"You have to rely on your sponsors because there are going to be down times," notes Lane. "My sponsors have been great; they kept me going when things got tough. Professional bass fishing is not the easiest road to travel sometimes, especially with a wife and three young children at home."
The road is also long, what with BASS holding two Elite events out West in 2015 and the golden ring of a guaranteed Classic berth for a win at one of the regional opens – as long as the angler fishes every event in a region – adding even more miles to the odometer of the truck pulling his SpiderWire-wrapped Phoenix bass boat.
While some pros, including his brother Chris, have drivers to take their rigs across the country, Bobby Lane prefers to keep track of his gear and does his own driving. We're talking from Florida to California and back to the Great Lakes. And there are no sick days for pro bass fishermen.
Consider one stretch of Bobby's 2015 season. Fishing the Elite event at Lake Guntersville, Alabama April 9-12, Lane came down with a severe cold but still ended up in the money. Four days later he was fishing the Southern Open on the Alabama and coughed so hard he felt like he broke a rib by the time the event ended April 18.
What next? All he had to do was drive to Sacramento, California in time to pre-fish and compete in the April 30 Elite event on the Delta.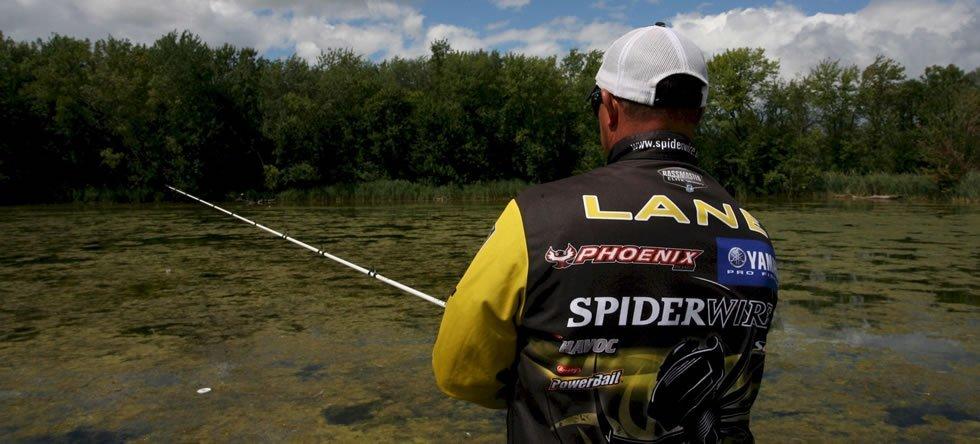 "I stopped in Texas for an oil change and looked up a chiropractor who set my ribs," recalls Lane. "I started feeling better but I still didn't really know where I was fishing when I got there. I ended up getting sixth place."
A money finish at Lake Havasu followed and it was back across the country to another state, another lake.
"It's a long haul and you have to be ready to attack any body of water. Sure I would like nine events in Florida, but that's not going to happen," says Lane. "I want to be confident, mentally and physically prepared, and leave no excuses out there.
"With SpiderWire as a major sponsor, along with Abu Garcia and Berkley PowerBait and my other sponsors, I have everything I need for anywhere we fish," Lane points out, noting SpiderWire has been a sponsor since he began his career. "The more I grow with SpiderWire, the more SpiderWire grows with the industry."
Lane says SpiderWire has stepped up its game to the point where the company produces fishing line for any situation.
"Now it's not just about fishing 65-pound braid on mats. I can put on 8- or 10-pound SpiderWire UltraCast Invisi-Braid and 6-pound SpiderWire UltraCast 100% Fluorocarbon and fish crystal clear water," Lane says. "I love to fish saltwater, when I get home and I'll be using the Stealth Blue Camo Braid."
"I enjoy being the SpiderWire guy, I love the logo," Bobby adds. "It has that mean, aggressive look, that's how I approach my tournament year. I know for sure SpiderWire has put more and bigger fish in my boat over the years."