Bobby Lane: Be Prepared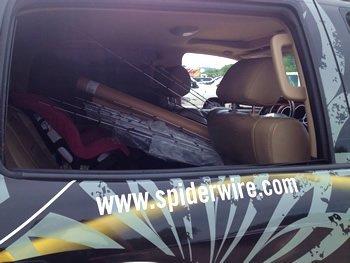 "When I'm fishing a new body of water, I like to make sure that I come prepared to fish a variety of techniques and use many different tactics. I've found that more often than not, I end up catching bass in a way that I didn't expect. There's nothing worse than discovering an awesome bite only to find that you don't have the necessary tackle and lures to get the job done.
"In order to make sure that I'm ready for anything when I set out on a road trip, I always pack spare equipment in my truck and boat. Even if I'm planning on flipping and pitching in shallow water, I'll make sure that I have some extra rods and reels ready for action. One of the easiest ways to be prepared for anything is to carry a few reels spooled up with different sizes of line. If I'm flipping with a 7'3" medium-heavy Abu Garcia Veritas rod and Spiderwire braid and want to try fishing deep structure, it only takes a minute to switch to a reel that I already spooled with lighter fluorocarbon line and I'm back in action using the best possible setup for the technique."