Bobby Lane: Cranking in Current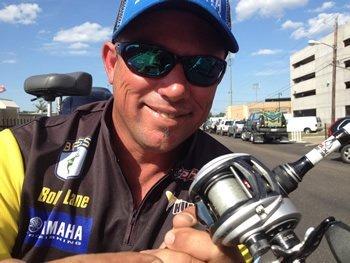 "On rivers with strong current, bass will often position themselves in shallow water behind current breaks like boulders and stumps to ambush baitfish that are swimming down current. One of the best ways to generate a reaction strike is to cast upstream past the current break with a shallow diving crankbait and burn it past the cover. The key is using a high speed reel so that you can move the crankbait faster than the current is carrying it and get the bait down to the strike zone.
"I used this technique to finish in 7th place at the Elite Series tournament on the Alabama River. I threw a Sebile Bull Crank past flooded timber that was located in heavy current on the main river and retrieved the bait as fast as I could with an 8.0:1 super high speed Abu Garcia Revo STX reel. The big spotted bass would eat my crankbait as soon as it deflected off the submerged timber."