Bobby Lane: Work on Your Weaknesses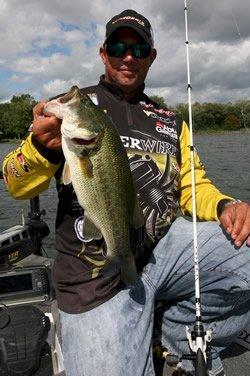 "Being from Florida, I love catching shallow water largemouth on heavy action rods and braided line. The only problem is that power fishing isn't always the best technique to use when I travel around the country fishing on the Bassmaster Elite Series tournament trail. There are times when a medium-light action Abu Garcia Veritas spinning rod with 6 lb. test Spiderwire Ultracast 100% Fluorocarbon line will outproduce virtually every other technique.
"I try to improve on at least one technique every year, and this past year I really worked on becoming a better angler with a drop-shot rig fished with light line. One of the best ways to gain more confidence in a technique is to catch a whole bunch of fish using it, and that's exactly what I did. I went to a small lake that I knew was loaded with bass, and the only tackle I had in the boat was spinning rods and reels, drop-shot weights and hooks, and a couple bags of Berkley Twitchtail Minnows. After catching at least 50 bass, I felt a lot more comfortable using a drop-shot and gained a lot of confidence."