SpiderWire's Team Shryock: Motocross, Media and Money Bassin'
September 15, 2015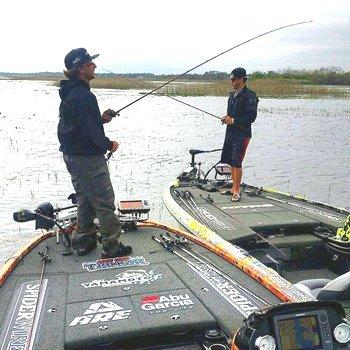 Fletcher and Hunter Shryock, the brothers that make up SpiderWire's Team Shryock, have been pros since their early teens. Pro motocross riders that is, at least until they traded in their motorcycles for bass boats and hit the professional tournament trail.
Fletcher was the first to make the switch when an injury took him off the course.
"I had a separated shoulder, needed surgery, knew I was going to be out of racing for a while and the next week I bought a bass boat," says Fletcher. "There I was winding the handle with the hand on my bad arm in the sling and pulling on the fish with the good arm. Two weeks later I was fishing tournaments. I just kept fishing and never did get that surgery."
Fletcher soon made his mark on the B.A.S.S. pro fishing trail, scoring his first Bassmaster win at the Southern Open on Lake Norman in 2011 and following that up by cashing checks at three of the next Open events he fished. By the end of 2011 SpiderWire offered the young pro a sponsorship deal.
Meanwhile Hunter, the younger of the two by three years, continued to race bikes professionally until he was 21. The only fishing he did was at his grandma's pond. After he left motocross, Hunter went to work at the family auto parts business in Ohio. Yet something was missing.
"Going from racing to no competition at all was the worst thing in the world for me," recalls Hunter. "It was then that I started getting into fishing, mainly because Fletcher had done so well. I went to watch Fletch fish the (Bassmaster) Classic. Now I knew the Classic was a big deal, but I didn't know at the time how big. I went home and bought my first boat."
Fletcher added a new look to his ride. He introduced his SpiderWire-wrapped bass boat at the 2012 Classic and went on to claim money at five of the nine Elite Series events that year.
Hunter had some serious catching up to do, but Team Shryock was used to working together.
"Ever since I started fishing Fletcher put me under his wing," says Hunter. "Fletcher put me on the short track to where you need to be."
Besides picking up advanced fishing skills, Hunter found another short track to success in the professional fishing world – he bought a GoPro camera and a laptop computer and it wasn't long before the Shryock's were both on the SpiderWire pro staff.
"I said to myself, 'These guys are making some cool videos, let's see if I can make one," Hunter notes. "Once I started doing the videos, sponsorships and other opportunities came about."
One of Hunter's videos was featured on a giant screen at the Pure Fishing booth during ICAST, the sportfishing industry's trade show. You can check out his YouTube channel (Hunter Shryock Fishing/496 Films) and he is also active on Twitter (@boomer496) and Instagram (@huntershryock496).
"It's not like I'm setting the (fishing) world on fire, but sponsors really like the social media and videos," adds Hunter. "It gave me an advantage over other anglers and it's helped Fletcher out a lot, too."
The extra exposure has come at a good time. During the 2015 season so far Fletcher has been just a few spots away from making the cut or a hefty check in a succession of Open and Elite Series tournaments.
"I'm close, it's not like I am way off," says Fletcher. "I am a much better fisherman than when I started back in 2009. Think about it, I am fishing against pros that had multiple wins and millions of dollars in earnings already when I was still riding motocross. There's so much more to this business than fishing and I think I have done pretty well so far."
Of course, Fletcher did get an early start of sorts. Born with a love for fishing, at 10 years old Fletcher shot a SpiderWire commercial on his "Fishing with Fletch" show.
"I actually approached SpiderWire after my first win, SpiderWire is in my blood," says Fletcher. "It's the strongest, cutting-edge fishing line out there. I have to use the best. SpiderWire fits me as a brand, it's who I am."