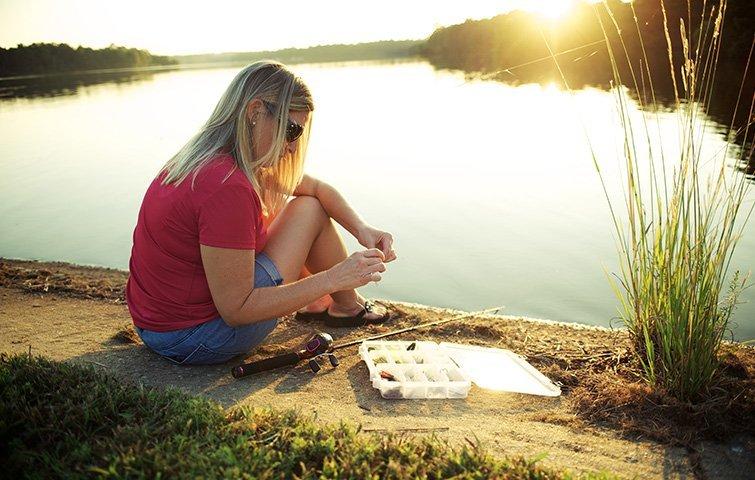 Keeping a tidy tackle box is a good idea for any angler. It makes it easy to find what you need on the water, which helps you catch more fish by being ready for a hot bite. Properly stored tackle also won't get damaged and lasts longer, protecting your investment. The way anglers organize, store and carry gear is known as tackle management. Here are some tips on how to do it.
Tackle Container Options
There are many containers available for organizing and carrying tackle. Most popular are tackle boxes and tackle bags.
Hard-plastic tackle boxes are a good all-round choice for many types of fishing. Durable plastic construction stands-up to rough treatment while keeping gear secure in trays and compartments. Tackle boxes are great for youngsters and rocky bank fishing trips. Products come in a range of sizes.
Tackle bags are soft-sided. Their main compartment is used for carrying removable plastic tackle trays. This flexibility makes bags useful for anglers who chase different fish species or use different tactics from one trip to the next. Bags can also have other compartments and pockets for packing tools, sunglasses, and other items.
Other specialized containers are available for specific gear. One example is storage binders for carrying soft-plastic bags, thin lures, or jars of soft-bait. These products help customize a tackle management system to suit your fishing style.
General Tackle Management
After deciding on a tackle box or bag, it's time to sort and store tackle based on type and size. Here are some things to keep in mind.
Group tackle for the same fish species together in the same tray or container
Next, organize lures based on what they do. For example, put largemouth bass crankbaits on the right side of a tray, minnowbaits in the middle, and topwaters on the left.
Keep soft-plastic baits of the same color together in containers or bags as mixing can cause colors to bleed
Some soft-plastic chemicals can eat-away at lure and jig paint; separate baits to prevent damage
Use trays and utility boxes with small compartments to store hooks, sinkers, floats, and other small terminal tackle
Adjust tray dividers to match lure size and maximize storage space
Choose clear plastic lids to make it easy to see what's inside a container
Use labels to identify container contents
Close and lock boxes and trays when not in use to prevent items from falling out in the event of an accidental tip-over
Always open and dry out wet gear after an outing to prevent tackle from rusting
Tackle Management at Home
Organizing space at home for fishing gear makes it easy to plan and pack for trips. Consider the following tips for a great fishing room.
Install shelving or storage racks to keep gear tidy and off the floor
Store extra tackle and gear in labelled totes and containers
Use coat racks and hooks for hanging rain gear and other clothing
Invest in a rod rack to protect and properly store combos
In short, effective tackle management can save you time and money.